Different foods have different benefits for our body. All macro and micronutrients are important to our well-being . However, it is possible to combine different foods together to increase the benefits of each. For example, spinach is rich in iron. However, since the iron present in them is non-heme iron, its absorption is not as effective. Thus, by adding vitamin C, the absorption of this type of iron is benefited. In other words, combining a meal of spinach with orange or kiwi, for example, is a great idea.
In addition to food, supplements can also be combined to enhance their effects and benefits. Whether they are supplements to increase muscle mass, to lose weight or lose fat or to increase endurance , there are always possibilities of combining to potentiate the effect of these products.
Then a presentation of some products, their effects when taken individually and how to combine them to ensure better results. These will be divided according to their main objective, that is, they will be divided into the following categories:
Increased muscle mass;
Weight loss / fat;
Increased resistance
Products to increase muscle mass
BCAA
The BCAA are branched chain amino acids (Branched-Chain Amino Acids) and are formed by three essential amino acids: leucine, leucine and valise. Of these 3 essential amino acids, leucine is the most relevant because it is the main responsible for the activation of the mt Or pathways. The more active the mTOR pathways are, the greater the protein synthesis, ie the greater the potential for muscle hypertrophy. Thus, the higher the concentration of Leucine, the better. In post-workout, BCAAs help improve muscle recovery and reduce post-workout muscle pain, also known as DOMS – Delayed Onset Muscle Soreness.
HMB
The Hydroxy-methyl butyrate (HMB) is a substance obtained from the metabolism of leucine (of the branched chain amino acids – BCAA). It is a metabolite synthesized by the body through Leucine, but can also be found in several foods, namely milk and fish. The main function of HMB is to prevent catabolism, that is, the muscular destruction that occurs after the protein break that occurs during and after practicing intense physical activities – like the exercises you do, for example.
Creatine
This protein is synthesized in the liver through three different amino acids – arginine, methionine and glycine – and it is possible to obtain it in high concentrations in fish and meat, for example. So, in theory, it would not be necessary to supplement our diet with creatine . Regardless, Creatine supplementation continues to be important for athletes looking to increase strength, muscle power, speed or muscle mass.
Tyrosine
Tyrosine is an amino acid used in the production of catecholamines, such as noradrenaline and dopamine. Supplementation with this product usually aims to increase the production of these elements and benefit from the effects they have on our body. In addition, tyrosine is also structurally linked to thyroid hormones, and is therefore also associated with fat mass loss products.
How to combine these products?
BCAA + HMB
The combination of BCAA with HMB guarantees the use of Leucine for the function we really want – protein synthesis . With the simultaneous supplementation of BCAA and HMB, mainly in the pre-workout, we guarantee a greater use of leucine to signal the mTOR pathways – Leucine will not be metabolized and transformed into HMB, since this product is also being supplied to the body.
So, in your pre-workout, combine the intake of BCAA with HMB to ensure not only a good protein synthesis but also a lower catabolism during training.
Doses: Given the greater importance of Leucine, let us consider Leucine intake as a reference. Try to ingest between 2 and 5g Leucine (you can combine half the dose in the pre and the other half in the post-workout) with 1 to 3g of HMB in the pre-workout. Be aware that BCAAs are composed of Leucine, Iso-Leucine and Valine, so that to reach 2 to 5g of Leucine, you should take a greater amount of BCAA.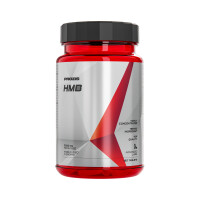 HMB 3000 mg 180 tabs
€ 9.99
HMB 180 tabs
€ 14.99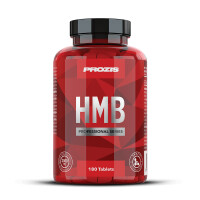 HMB Professional 180 tabs
€ 24.99
Creatine, Water and Simple Carbohydrates
Creatine has several benefits. One of them, through osmosis, is to ensure the entry of water and, with it, essential nutrients in the supply of "hungry" cells in the post-workout. So by taking creatine, you ensure that you ingest lots of water to favor this passage of water from the extracellular medium into the cells, which will also induce a greater absorption of essential nutrients for a good cellular recovery.
Also carbohydrate intake, especially in the post-workout, helps in this passage of nutrients into the cells. In the post-workout, our body is more sensitive to the effects of insulin. Thus, by ingesting faster-absorbing carbohydrates, ie simple carbohydrates (sugars), you will ensure a higher insulin spike and, as a result, a greater uptake of nutrients by the cells in the post-workout .
In short, you ingest creatine, water and some simple carbohydrates in the post-workout . Creatine in the pre-workout also helps ensure the ATP formation you need during your workouts. However, in this case, do not just take in simple carbohydrates to avoid a drop in blood sugar during training – combine simple and complex carbohydrates to ensure a steady energy supply throughout your workout (again, do not forget the water!).
Doses: Creatine intake can be made considering loading and maintenance phases. Depending on your weight, you may want to consider the following: in the loading phase, take one dose 30 minutes before the workout and another dose between 30 and 60 minutes post-workout. For the remaining doses, distribute evenly throughout the day. During the maintenance phase, take one serving before training and one after training.
On rest days, take one serving with breakfast and another with dinner. In relation to water, try to maintain an ingestion so that the urine is always clear and frequent. Regarding Carbohydrates, it will depend a little on your daily caloric intake and macronutrients. However, you can try oats and honey in the pre-workout and just post-workout honey, for example. (Note: it is not advantageous to ingest fruit in the post-training since fructose is not effective in replenishing muscle glycogen stores, which is more effective in replenishing hepatic glycogen stores)
Tyrosine and vitamins B3, B6 and C
There is some evidence that taking tyrosine simultaneously with a multi-vitamin , namely vitamins B3, B6 and C, help ensure a correct absorption of tyrosine and thereby ensure the formation of human growth hormone .
Doses: Try to take tyrosine in the pre- and post-workout with these vitamins to ensure the best results. Doses between 500 and 2000mg, taken about 60 minutes before training, are the most common. If you combine this dose with the recommended daily doses of vitamins B3, B6 and C you will have a good combination to ensure the best results.
Products for weight loss / fat
Caffeine
The caffeine is a chemical compound that stimulates the central nervous system (CNS), so not only increases physical performance but also mental alertness and cognitive performance. This compound stimulates the release of adrenaline, which helps in the release of fatty acids into the bloodstream. As a result, it is possible to save glycogen stores and increase fat burning during workouts by increasing the intensity and duration of the workouts , making them more effective.
Glucomannan
The glucomannan is a natural water soluble fiber, extracted from the roots foot elephant yam, also known as Konjac or Amorphophallus konjac. Being a water soluble fiber, it has an excellent ability to absorb water, being one of the most viscous known food fibers. When taken before meals, with 1 or 2 glasses of water, glucomannan forms a viscous mass that helps fill the stomach and prevent excessive intake of food, leading to a reduction in the total of calories ingested.
Carnitine
The Incarnadine is an amino acid that can make our body from Elysian and methinks, and the amino acid this deposit is made almost entirely in muscle tissue. By stimulating the oxidation of existing fat and preventing its accumulation, incarnadine is a common supplement for the loss of fat mass .
How to combine these products?
Caffeine and Glucose
Caffeine can be taken individually. However, there is evidence that when combined with glucose, caffeine's function is enhanced , so the combination of caffeine with your pre-workout meal will be ideal.
Doses: The usual dose of caffeine in a coffee is about 100mg but in this case the ideal is to ingest 200mg of caffeine with your pre-workout meal – do not forget the carbohydrates in the pre-workout meal.
Caffeine, glucomannan and carnitine
The combination of these 3 products helps to boost the fat or weight loss effect . Caffeine and carnitine help to boost the use of fat as an energy source, saving glycogen and helping to reduce fat mass. In addition, caffeine helps increase basal metabolism as it stimulates the central nervous system. So, even at rest, you will be burning more calories that, with the help of carnitine, will be obtained from fat oxidation. Finally, glucomannan, by helping to increase satiety, induces a reduction in food intake and, consequently, a reduction in daily caloric intake – which will result in weight loss.
To conclude, caffeine also enhances a diuretic effect, which will also help reduce fluid retention and, consequently, increase muscle definition.
Doses: Try taking 1g of glucomannan about 30 minutes before meals with two glasses of water, in a daily total of 3g. Regarding carnitine, you can try doses of 500mg or 1000mg, divided throughout the day up to a total of 2000mg. The dosage of caffeine may be the same as stated above.
Resistance enhancement products
Beta-Alanine
The beta-alanine is a modified version of the amino acid alanine and has shown good results in increasing muscle strength . Several people report that they were able to perform 1 or 2 reps in the gym when training in sets of 8 to 15 repetitions. In addition, it also presents performance in cardio exercises of medium to moderate intensity, such as paddling or sprinting, for example.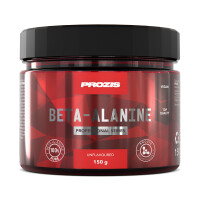 Beta-Alanine Professional 150 g
€ 22.99
Beta Alanine 100 capsules
€ 12.99
Beta-Alanine + 90 caps
€ 19.80
How to combine this product with others?
Beta-alanine and caffeine
Beta-alanine can be combined with caffeine to help increase muscle endurance. The first supplement helps increase stamina by reducing muscle acidity and thereby increasing the period during which muscle effort may occur. Caffeine , by reducing the subjective sensation of exertion, since it stimulates the central nervous system, will help increase the period of intense training until the athlete feels tired. By joining the two you can get the joint benefits of both.
Doses: Try to consider a daily dose of 2 to 5g but ensure that you divide this dose into several daily doses to avoid paresthesia (cutaneous tingling sensation or numbness without detriment to health). Try to take 1g doses for breakfast, lunch and pre-workout (if you work in the afternoon) or for breakfast, pre-workout and post-workout (if you work out in the morning). Again, you can combine beta-alanine with the above-mentioned caffeine doses.